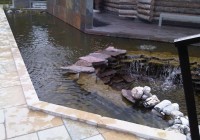 It must have a depth of at least 1 meter on the edge have different heights due the requirements of different plants at different depths. The pond, in which several species of fish can be unleashed include: goldfish, gold's winder, sturgeon, etc.
Feel free to visit our model garden with several ponds.
Maintenance of natural ponds
To keep the water clear of this pond, you need only enough oxygen created by plants, water lilies and other waterside plants. all with about 30% floating leaf which provides direct shadow in the water.
Here you can also apply a layer of substrate with nitrifying bacteria.
For disposal of waste can be a biological filter with an ultraviolet lamp, this can be reduced to 1 per 4 hours once the contents of the pond to pump.
Constructing and finishing a natural pond
We take the entire construction process if required in management, so do not worry about the execution.
The edging can be created with various products including hardwood decking, natural stone, stainless steel, tiles and of course with a rim of grass and plants etc.